www.green-creations.com / GREEN CREATIONS GmbH
Email: office@green-creations.com / Tel: 0664 88 23 41 22
Wiener Neustädter Straße 43/1 - A 2551 Enzesfeld
flower pot holder Masu fits on any windowsill
You want to use your windowsill?
You have a windowsill and you dream of a herb garden?
Are you looking for a professional windowsill fall protection system?

  A flower pot holder for your flowers and herbs?

  Without drilling, without sawing, without complicated measuring?

  Suitable for every width and every type of windowsill?

  Assembled in a few minutes?

  Without damage to the facade?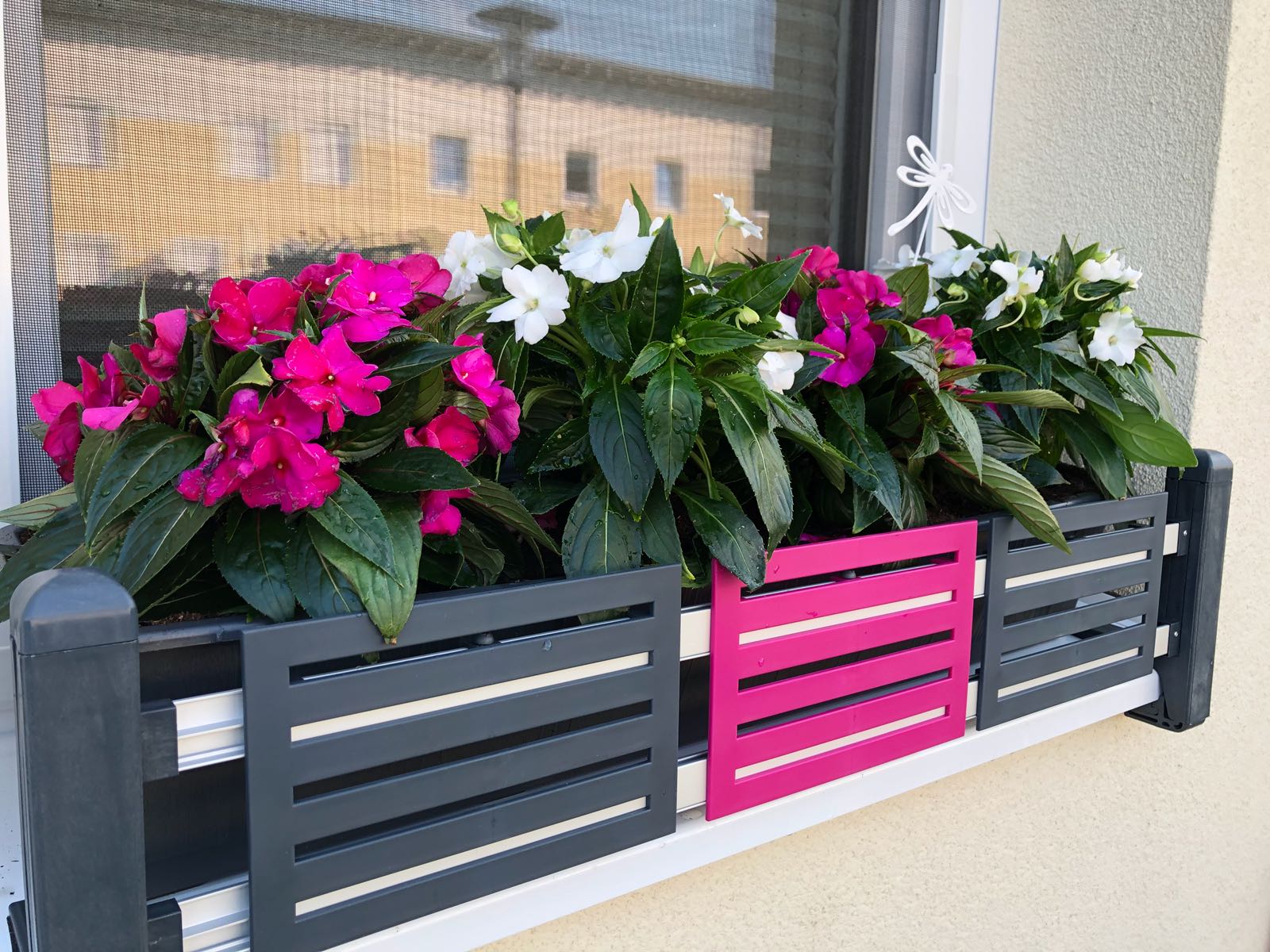 ---
masu

® 

turns the windowsill into a garden

!

However, Masu is much more than "just" a flower pot holder

The windowsill fall protection Masu protects your herb boxes, flower pots or decorations from falling.

Masu can be designed individually and makes facades green and beautiful!
Masu fits on every windowsill, wether marble, stone, aluminium, sheet metal, plastic, ...
Clamping instead drilling - Masu ist child`s play to assemble with just a few hand movements
no drilling, no sawing, no complicated measuring, no additional tools necessary
Masu is infinitely variable with telescopic cross rails and extension sets for any width
Masu does not damage facades or window sills and can be dismantled without leaving any residue
Masu can be individually combined and extended (many colours and styles)
Masu creates new habitat for bees and beneficial insects
Masu is the worlds first universially applicable windowsill fall protection system on the market
further information at FAQ and Masu Basicset
facade greening with masu®
Our vision is to make half of all window sills with Masu green and beautiful in the next 10 years.

The lush green of the plants has always had a positive effect on us humans.

We cannot make a forest out of a city, but we can green any facade.

All people should be able to grow their own herbs and vegetables - even in the city.

Even if the space on the windowsill is very small, we create with Masu new green space for plants and animals.

We can show our children how "life" arises from seeds and how their own herbs and vegetables thrive.

And honestly - your own organic vegetables taste best, right?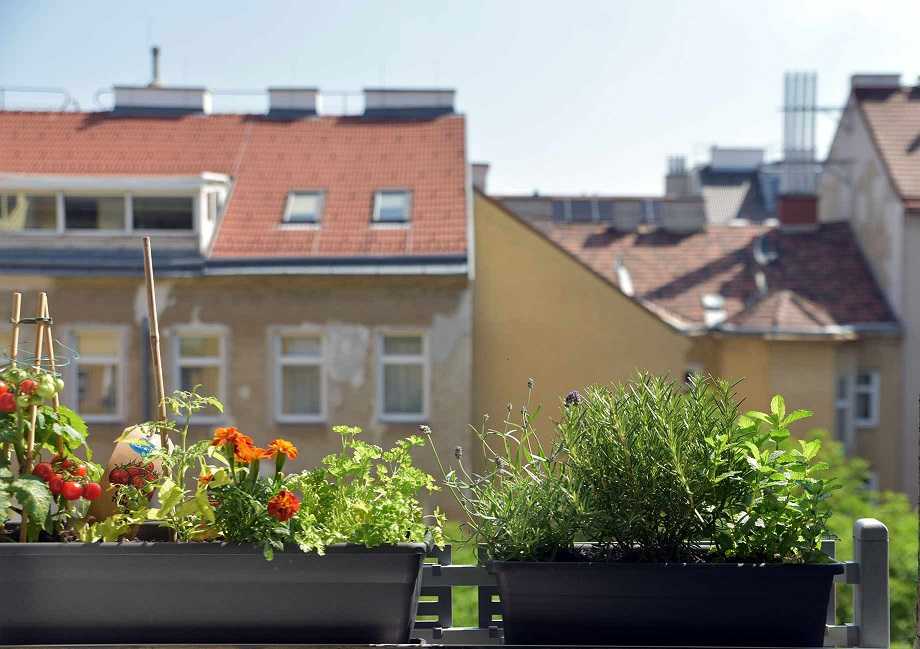 In addition, every single plant helps to counteract urban climate change. Our quality of life improves.
It is good for our soul when we look out of the window and instead of "gray in gray" we see lush green and flowers of plants again. Further information at urban gardening
Everyone should have the opportunity to plant their own vegetables or herbs on their windowsill and make facades greener and more beautiful!
... and with every green window sill we come a little closer to our vision -
we can do it together ...
masu® - the perfect gift for every occasion!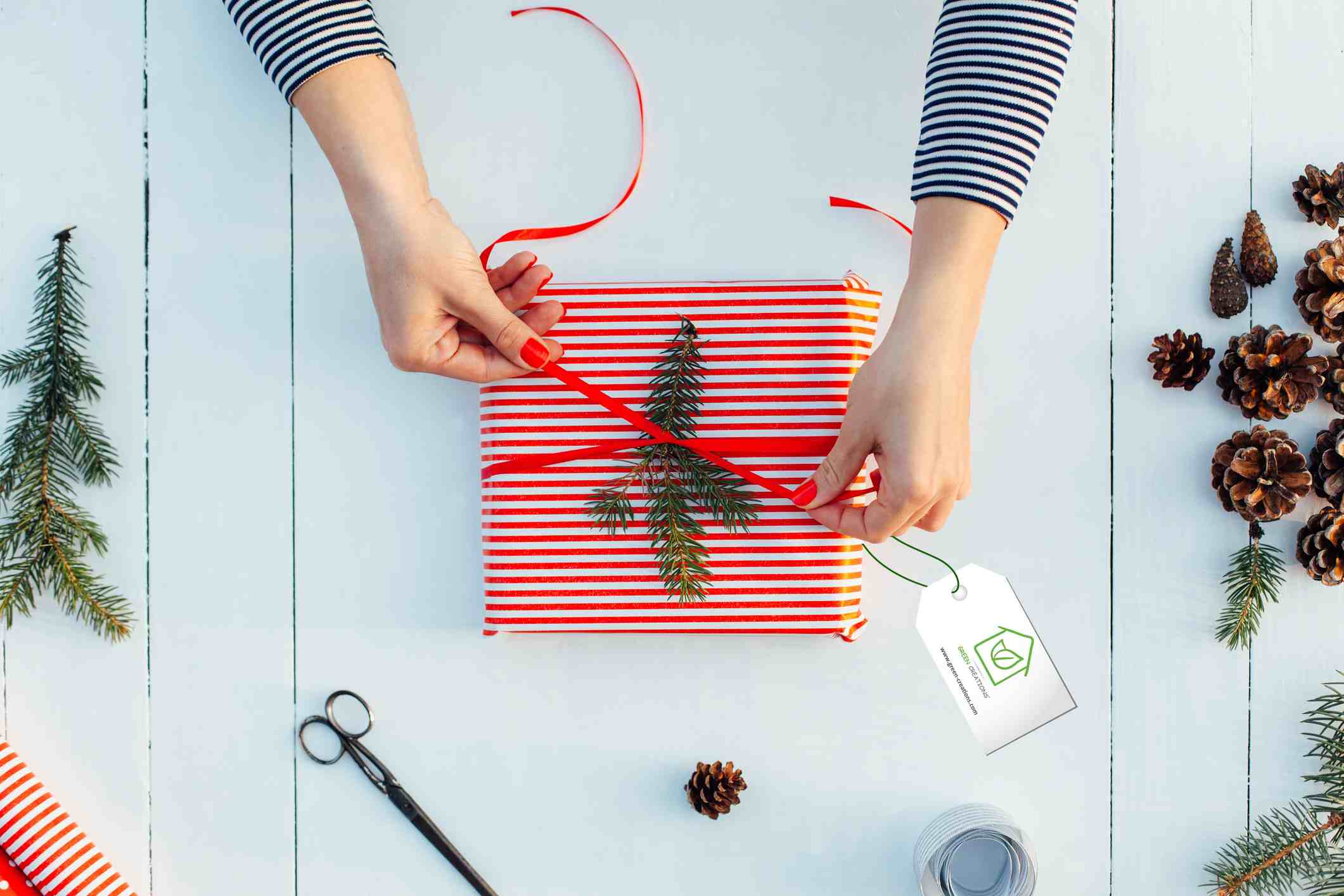 With masu you can give 10 times more joy:
Masu fits on any windowsill

Masu

can be designed individually and can be continuously expanded or changed

Masu turns every window sill into a garden

Hobby cooks will be able to grow their own fresh herbs on the windowsill in the future

flowers on the windowsill are a joy every day

with every Masu you can improve the quality of life in the city

with accessories, glass balls and decorative elements in many colors and styles, you will always have a great gift idea in the future

Masu is fun all year round and protects objects on the windowsill from falling

Masu is available from € 49.90 in our  webshop

Masu is sustainable - and "made in AUSTRIA"
masu

®

for autumn and winter:
Especially in the cold season in autumn and winter, the lush green of plants and herbs is particularly important for our well-being.

In autumn, however, the risk of falling flower boxes and pots is greatest.

The proverbial autumn storms not only endanger people or objects on the street. In the event of a crash, the flower pot or the herb box usually breaks.

We therefore recommend installing masu now at the latest
With the masu planter holder you can enjoy fresh herbs from the windowsill all year round
When using a window box holder for the windowsill, you usually think of flowers. Many types of flowers look beautiful, but are unsuitable as a habitat for domestic beneficial organisms.

As an alternative, dwarf shrubs are also ideal and green all year round.

Suitable hardy perennials, shrubs, herbs and flowers make your windowsill something special 365 days a year.

If you put insulation under your herb box or flower pots, they are better protected and you will have a lot of fun even during the cold season.

You can get more valuable information about this in the flower specialty store and our BLOG
Masu is weatherproof and can be used all year round - for example for window decorations for Christmas or for perfect cooling of your drinks!

With Masu, your light chains can now also be easily installed on the windowsill.
Turn your windowsill into a garden!
You see the lush green of your flowers from the window and create new living space for bees and other beneficials.

Masu helps to counteract urban climate change, because every single plant draws heat from the surrounding air during evaporation.

More green spaces also improve the feel-good quality, bind fine dust, reduce CO2 and reduce the heating of buildings.
More information on this at:  gruenstattgrau.org/fassaden
each masu® is individual and unique:
You can put together your masu planter holder individually and expand or change it at any time.

For the basicset (in anthracite or signal gray), choose decor elements in your favorite color and style (modern / classic / waves).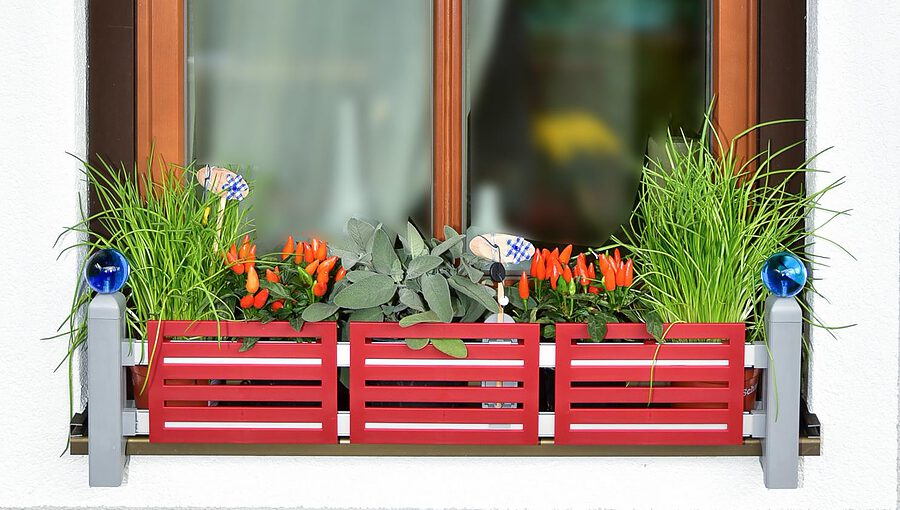 Masu decor elements:
Masu can be changed with decor elements in different colors and styles depending on the occasion, mood or season with just a "click".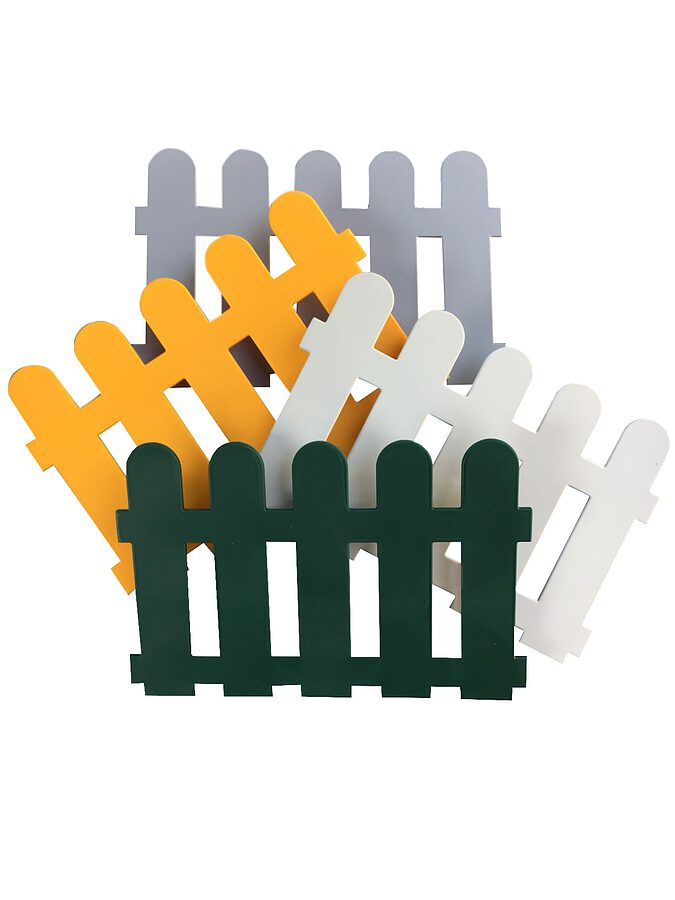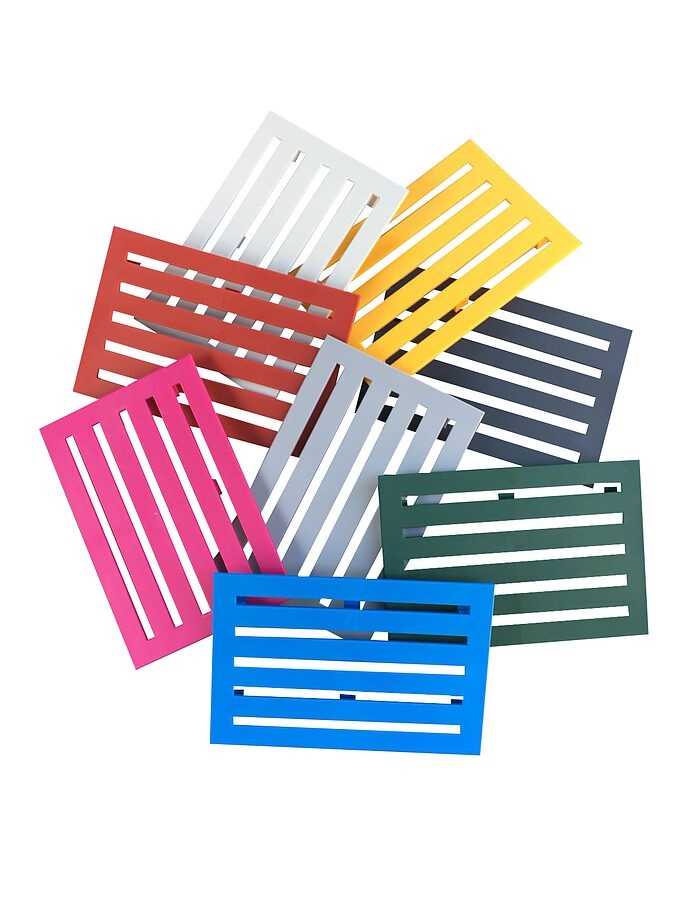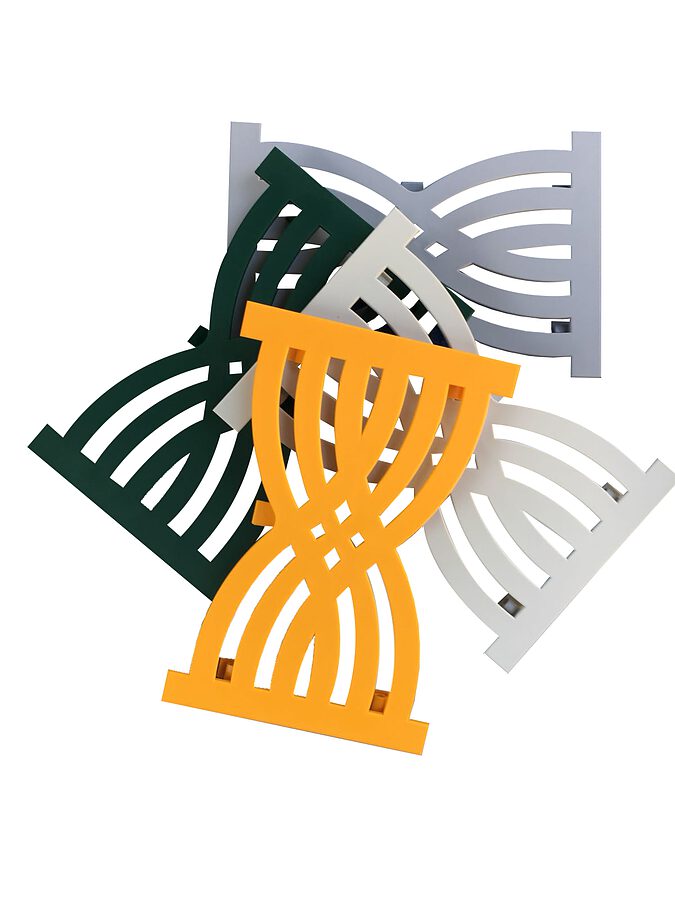 Masu glass balls:
Glass balls in different colors make your masu something special and can be assembled in a few simple steps.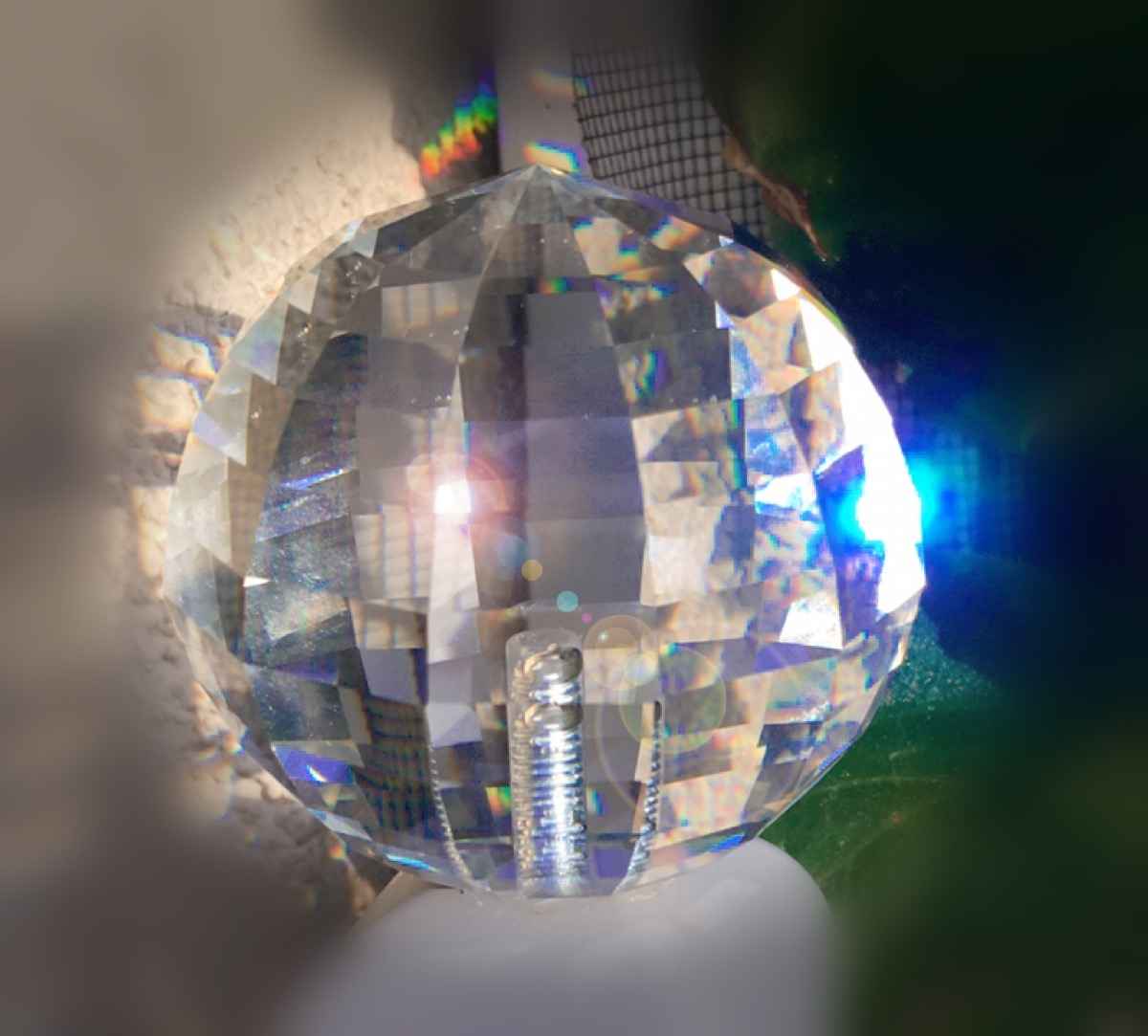 Masu accessories:
With accessories such as the insect hotel or a bird house, the window sill can be used all year round - for urban gardening, decoration and new living space!
Masu accessories can be mounted on any post and can be removed at any time. Instead of the cap, the supplied accessory adapter is attached to the upright.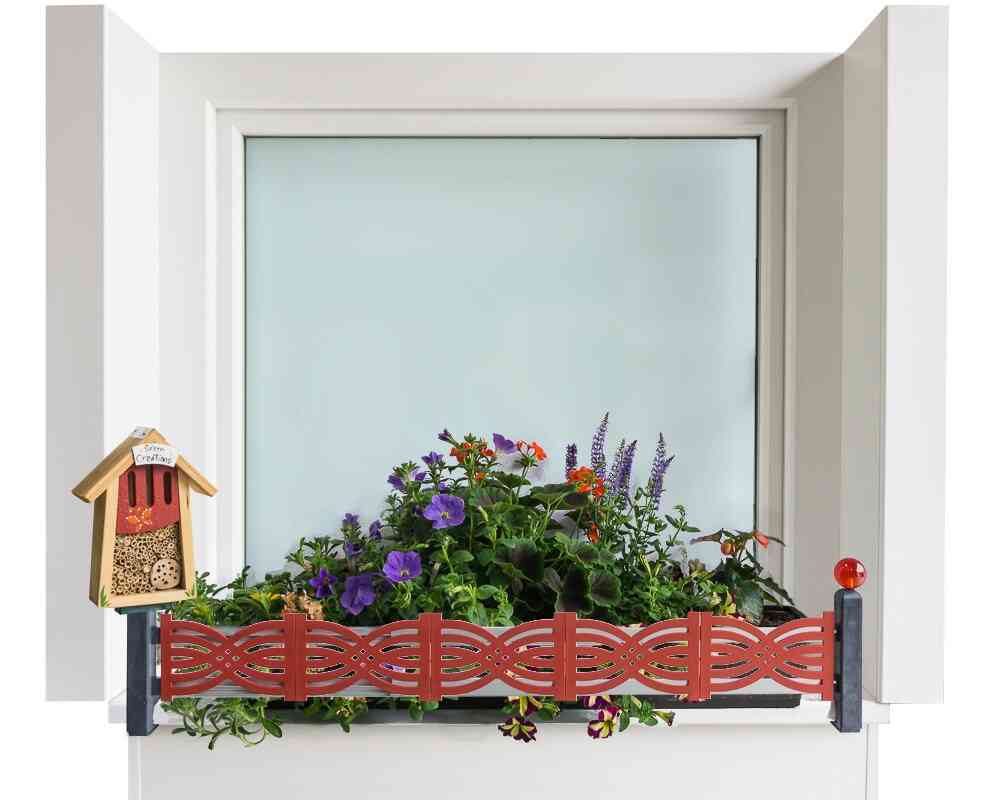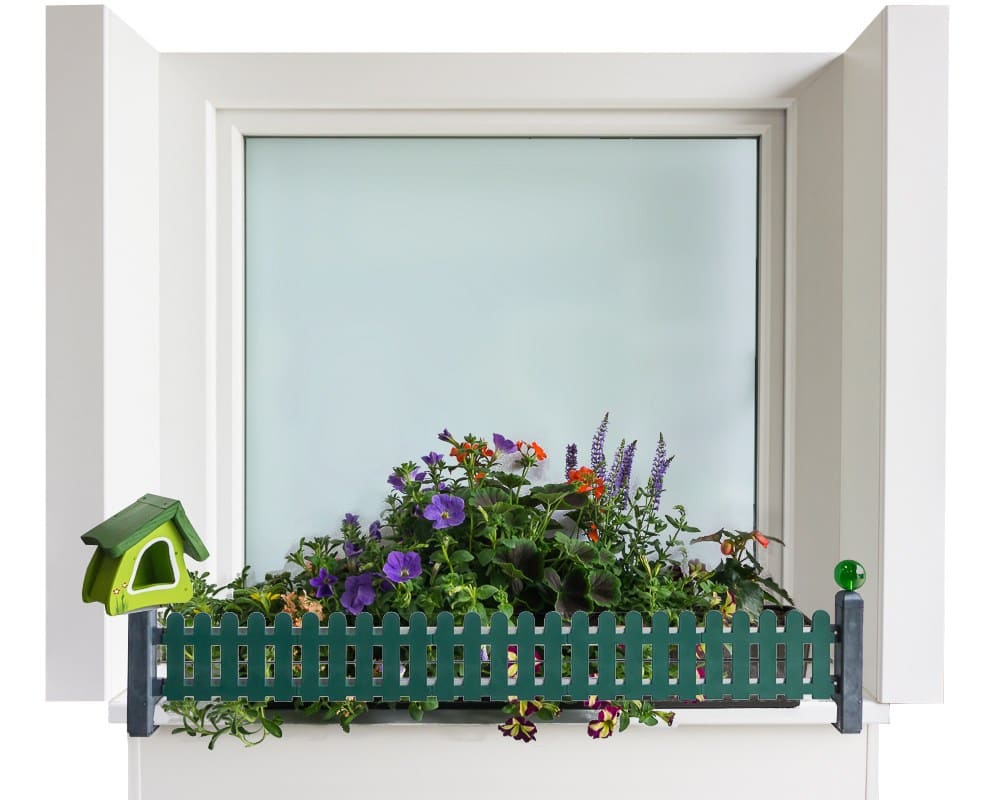 Masu can not only be mounted on window sills, but also as bed borders on the ground (with earth spike), on plinths of roof terraces or as a holder for billboards and advertising posters.
We would be happy to advise you! 
The basicset (78 cm - 140 cm) is sufficient for most single-leaf windows.
The expansionset (78 cm - 130 cm) extends the basic set continuously to any desired width (multiple expansion possible).
Masu is made sustainably from 100% recycled plastic in Austria
masu® means: modular adapter aystem für urban gardening
masu® is a brand of GREEN CREATIONS®
masu® - the original - is the world's first universal flower pot holder on the market, which fits on every window sill and for every width!
masu - also known from the PULS4 - Startup-Show: